Meet the Owner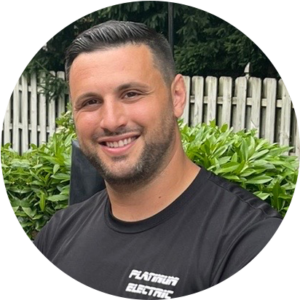 Meet Pete, the founder of the family owned business, Platinum Electrical Services, LLC. A devoted husband, and proud father of two; your satisfaction is our family's guarantee.
Shortly after graduating high school in 2005, Pete joined the IBEW Local 102 and dedicated 7 years to practicing his trade in the union. During this time, he developed an understanding of the importance of experience and training when it comes to performing electrical services safely and efficiently.
In 2013, Pete obtained his electrical license and started his very own business, Platinum Electrical Services, LLC. His company became a platform for electrical repair, installation, and maintenance, while offering impeccable customer service.
When choosing a name for his business, Pete described his vision of valuable service. Platinum is a metal that is valuable and rare, it is a great investment. Supply and demand for this precious metal are high. The value of platinum is easy to understand, and you can trust you'll get what you pay for. Pete found this definition to be true of his own service and work ethic. With almost 10 years in business, and 20 years experience, he prides himself on reputation and performance. At Platinum, he ensures your needs come first!